Hayden's Love For Star Wars
Hayden was one of the stars featured on a Star
Wars special called Star Wars:Feel The Force on Sky One.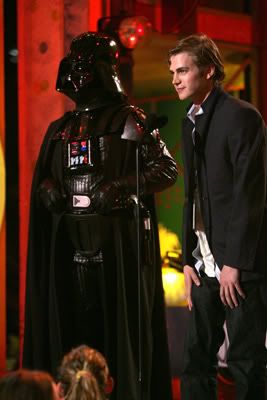 Hayden said his fave character as a child was
Bobo Fett, and when asked about Yoda he said,
"He's an all-knowing little green frog."(!)
Everyone was asked what the "force" is. Hayden replied
"It's the universal being that connects us all," then
added, "I have no idea what the force is...ha ha."
He revealed the language he spoke in Attack of The
Clones, when Anakin goes to find Shmi Skywalker,
his mother, was "gibberish", but his final statement
was, "My love for Star Wars remains constant,even
after my involvement is over. To be part of that
is pretty cool."
I could definitely hear Hayden's Canadian accent,
coming through when he spoke and he looked very good
(as usual)on the documentary.