Never underestimate female fans!! Especially Hayden's.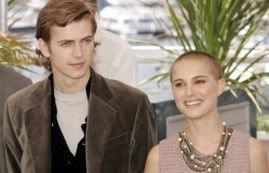 Peter Sciretta of Cinematical did. Criticising
Hayden for a "poor performance" in Star Wars he
got lots of er, comments on his blog. He writes:
"My
favorite was posted by a fangirl named Rose yesterday:
"i think peter [that's me] is a tad bit jealous of mr
christensen popularity and good looks. i am sorry the
women dont find you as attractive as we find him."

Someday maybe I'll be handsome and popular like Hayden?"
P.S.And Natalie Portman loves him,too!